Virtual Assistant
A virtual assistant is an assistant that communicates with you through text that integrates into websites and helps organizations to get closer to customers. Such an assistant is an automated system of communication with users.
How to create new virtual assistant?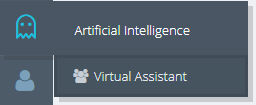 You can activate this virtual assistant by checking on Enable check box.

Click Save for adding more one virtual assistant or Save and Close for saving the virtual assistant and returning back or Cancel.
How to edit and get the widget code of a virtual assistant?
Open edit page by clicking on Edit icon..

Update the virtual assistant fields then click Save or Save and Close or Cancel.


Click on Copy icon for copying the snipped code and pasting to your website.
How to train your virtual assistant?
You can train your virtual assistant by clicking Train your virtual assistant icon.

Intent classification helps you detect the intent of the users. It is a better and more accurate way to understand what the user is trying to say than using keywords.

Examples:


| User said | Intent |
| --- | --- |
| "thank you very much!" | thank-you |
| "alright see you later" | bye |

Click Add for adding an intent or Delete for deleting the intent.



You can quickly review the intent's utterances by mouse hovering.




Give it a friendly Name, Description, add Utterances of that intent – that is, add as many ways of expressing that intent as possible.

In the "Say Something" editor, type the answer you want your virtual assistant to provide.
How to delete a virtual assistant?